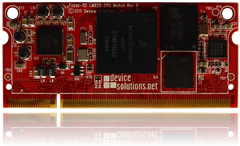 Meet the latest addition to the device solutions module family: the Topaz i.MX25 CPU module in a plug-in, 200-pin SO-DIMM form factor.
This is the same circuit as the surface-mount version, so transitioning a design from one to the other is easy.
It also has the same world-class operating system support for Windows Embedded CE from GuruCE and Linux from Trygtech.
The new form-factor offers excellent flexibility for prototyping new designs, and makes production easier – especially for low-volume products. The surface-mount module is still available and ideal for applications that need a low profile module, or operate in high-vibration environments.
The Topaz web page has all the details including an updated Technical Reference Manual and schematic library symbols.
Contact us for samples – they are in stock now!