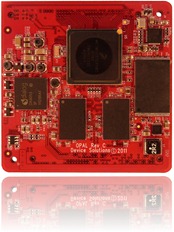 We are very pleased to announce the Opal i.MX53 CPU Module and Development Kit.
Opal is based on the Freescale i.MX53 processor, and includes up to 1GB DDR3 RAM, NAND flash, power management and an Ethernet PHY. It uses two 168-pin HiRose connectors to interface to a product-specific board.
Opal is perfect for devices that have demanding graphics requirements. The i.MX53 supports multiple displays, and includes outputs for TFT LCD panels with parallel and LVDS interfaces, as well as support for analog VGA. There is hardware acceleration for video as well as 2D and 3D graphics up to 1080p.
Connectivity highlights include Ethernet, USB and FlexCAN, as well as the usual embedded interfaces like serial, I2C and SPI.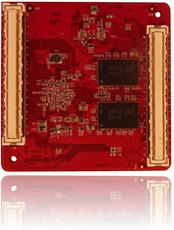 Opal is a 60mmx60mm plug-in module. With complex processors like the i.MX53, it can be difficult to strike a balance between exposing all the features, system cost, physical size and mechanical strength. We think the Opal form-factor achieves this for the types of industrial, automotive and medical devices our customers create.
For the development kit, we have gone with the "more is more" approach :-) and included Wi-Fi, Bluetooth and GPS. There is also support for 2 LVDS panels (you can connect the Freescale 10.1″ panel used for the Quick Start Board), 7″ touch-screen LCD, CAN transceivers and digital I/O.
Another feature we hope will be useful on the development kit is the USB to serial converter for the debug serial port – you no longer have to go looking for your adapter!
Initial operating system support will be for Windows Embedded Compact 7 from GuruCE, with Linux and Android to follow from Trygtech.
We will have hardware available in July for beta customers with full availability shortly after that. If you think Opal might fit your application we would love to hear from you, and get you on the list for a beta unit.