We are very pleased to announce the Topaz i.MX25 CPU Module and Development Kit.  Topaz is a new CPU module designed for portable, industrial and automotive applications.

The Topaz module includes a Freescale i.MX25 (400MHz ARM926), 64MBytes mobile DDR, 128MBytes NAND flash, Freescale Power Management IC and Ethernet PHY.  Like Meridian, Topaz is a surface mount module.  This is easy to mount on new hardware and scales well in volume production.

Topaz includes 10/100 Ethernet (just add a MagJack), USB Host and High-Speed OTG ports, LCD controller, Touch-controller, ADC, SD card, CAN, 5x serial ports, PWM, One-Wire, SPI, I2C, Security and more.  Check out the product page and data sheet for all the technical details.
For Topaz, we worked with partners to support Windows CE and Linux, as well as the .NET Micro Framework.  We are shipping today with Windows CE 6.0 R3 in conjunction with GuruCE.  The .NET Micro Framework and Linux are in development.
Topaz is ideal for portable applications as it uses low-power memory and can be powered from a LiIon cell.  For HMI applications, the built-in LCD and touch-screen controllers make it simple to connect a variety of display types.   For automotive applications, Freescale supply specific variants of the i.MX25 and these are supported by the Topaz module.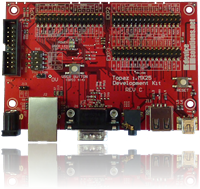 The Development Kit is great for evaluating the Topaz CPU module and development devices.
It includes 10/100 Ethernet, Serial, USB host and OTG ports, SD card and audio out.  All other signals are available on 0.1" interface headers for easy connection.
You have a choice of LCDs for use with the kit:
| | |
| --- | --- |
| | 4.3" 480×272 TFT LCD with touch-screen. |
The development kit is priced at US$299 and the LCD kits are US$199 for the 4.3" option and US$299 for the 7" option.  These are available from our web shop now, and will be with distributors in the next 2-3 weeks.