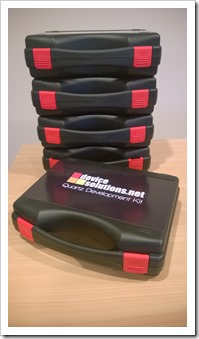 As you can see from the picture, we have Quartz Development Kits in stock!
Quartz is based on the Freescale Vybrid chip which is a dual-core ARM Cortex-A5 + M4 part.  Here is our quick intro video which shows the key features of the kit.
The kits are running a Timesys Linux build. Check out their development centre page for information on the tools that are available FREE to support Quartz software development.
Other Operating System ports are in the works including Windows Embedded Compact 2013 and FreeBSD.
The kit is designed around the connector version of the Quartz module. This is small (45mm x 35mm x 7mm) , but we have an even smaller surface-mount LGA version (38mm x 38mm x 3mm) for applications where vibration or space is an issue. You can still start your prototyping and evaluation with the development kit and move to the LGA when developing your product.
The Quartz Development Kit cost is $399 without LCD and $499 with a 7″ LCD. It can be ordered direct from us here.