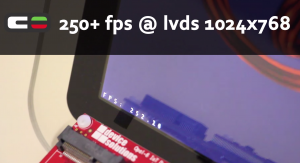 GuruCE have been hard at work on their latest BSP release for WEC 7 and 2013 for i.MX6. 
This release includes a big performance boost, GPU driver update and improved display support.  Chose between HDMI or LVDS display output in the bootloader.  HDMI will autodetect the resolution.
The demo image includes several GPU demo applications and GuruCE have done a video showing it running on several boards.  Opal-6 (based on the i.MX6 DualLite) managed to beat even the quad core modules and record an impressive 250+fps with one of the demos!.  
If you are looking for 3D graphics on a single display, the DualLite might deliver the performance you need without the cost and power issues of going to one of the higher-end i.MX6 options. Contact us to find out more, or request a development kit.